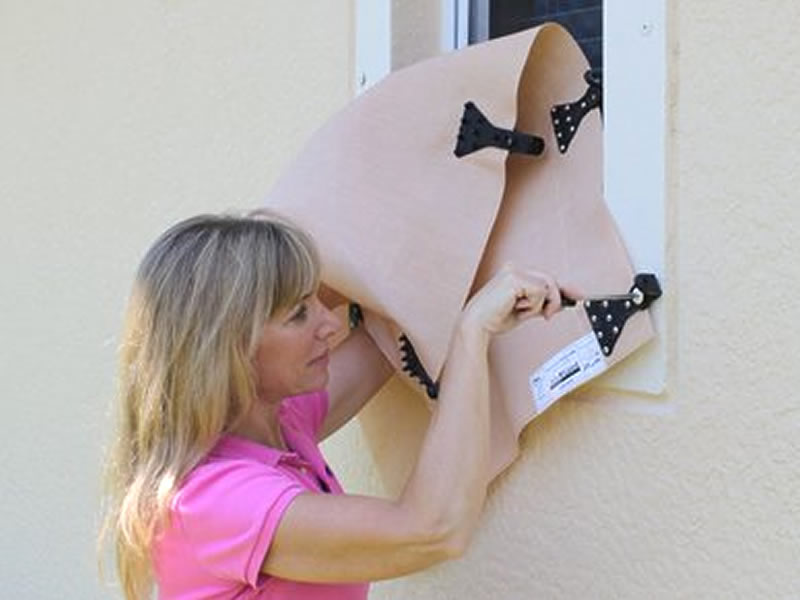 Living in a coastal region has its perks, but when hurricane season hits every year, it's vital that your home is protected with a strong system that will last for years to come.
DIY Hurricane Fabric is one of the leading hurricane protection solutions that many New Orleans residents choose to protect their homes. From strength to flexibility, DIY Hurricane Fabric provides a solution that is worth every penny.
What Benefits Does DIY Hurricane Fabric Provide?
Quality hurricane protection is an investment that is cost-effective both in the short-term and into the future. It provides you with peace of mind that your home in New Orleans is secure year after year.
Many other hurricane protection options, such as colonial shutters, require you to hire a professional to install them and are permanently added onto every opening in your home. With DIY Hurricane Fabric, you can preserve the exterior decor of your home with a temporary solution that can be deployed at a moment's notice and installed initially all on your own!
Depend on these benefits from DIY Hurricane Fabric:
Strength

against projectiles and hurricane force winds for seasons to come

Durability

as a result of careful design and quality materials

Flexibility

to adapt to your home's exact specifications

Simplicity

for quick, DIY installation
DIY Hurricane Fabric: Built to Last
AstroGuard Hurricane Fabric is widely known as one of the safest existing systems on the market, making it an easy choice to implement onto your home. In fact, AstroGuard Hurricane Fabric is 40% stronger than most hurricane protection panels. DIY Hurricane Fabric's intelligent construction includes high-tech carbon-fiber and plastic clips to secure the fabric paneling so that it can be taken down easily once a storm has subsided or deployed when a hurricane strikes.
The fabric material is high strength, and it is also translucent, coated with a ceramic resin that is UV-resistant, allowing light to come into your home during a storm. The tough material is made out of ballistic-rated nylon, making the system resistant to projectiles, water, and category 5 hurricane winds.
Is Installation Really That Easy?
With just a few easy steps, you can install DIY Hurricane Fabric onto your home in one day or less. As a result of the system's intelligent design, only a few simple tools are needed after purchasing DIY Hurricane Fabric and clips to secure the system on your home.
An overview of the
steps
to install DIY Hurricane Fabric:
Cut the Material
The very first step after purchasing your DIY Hurricane Fabric is to cut the material into pieces that will fit your home's openings, with a one- to four-inch overhang.
Pro-tip: Label every piece at this stage for easy installation, storage, and quick deployment later on when a storm hits.
Secure the Clips to the Fabric
When you purchase DIY Hurricane Fabric, you also get carbon fiber and plastic composite clips to easily and securely fasten your hurricane fabric panels to your home's doors and windows.
Begin by marking where each clip will be attached to the fabric, starting on the side where it will be mounted and two inches from the corner and continuing every 12 inches.
Attach the top and bottom clip pieces together to secure them onto the fabric where marks have been made.
Hold fabric over the opening, pulling it tightly, and making sure that it is centered. Mark where the attachment clips fall on the outer edges of your window or door. Once every clip placement has been marked, use a power drill to install the anchor. Then, mount the DIY Hurricane Fabric with attached clips.
After every clip has been fastened to your home, remove the DIY Hurricane Fabric from the clips, ensuring that it has been labeled with the appropriate window or door.
Easily store your new DIY Hurricane Fabric in its containment bags, ready to access easily when a storm hits.
All a homeowner needs is a little time, the right materials, and our instructions to get started. To begin protecting your home, use our detailed AstroGuard installation guide, along with some helpful videos by AstroGuard.
Contact West Shore to Protect Your Home
Before the next hurricane season strikes, be prepared with the knowledge that your home is protected with Miami-Dade-rated DIY Hurricane Fabric. Call one of West Shore's dedicated professionals at 727-488-8182 or contact us online to get prepared before the season begins.