Protecting your Gulf Shores, AL home with hurricane fabric can be a solution as mobile as you are. Discover the versatile benefits of AstroGuard Hurricane Protection and how homeowners can easily implement the system in Mobile, Gulf Shores, and other areas of Alabama.
Hurricane Fabric: The Solution for Your Mobile or Gulf Shores, AL Home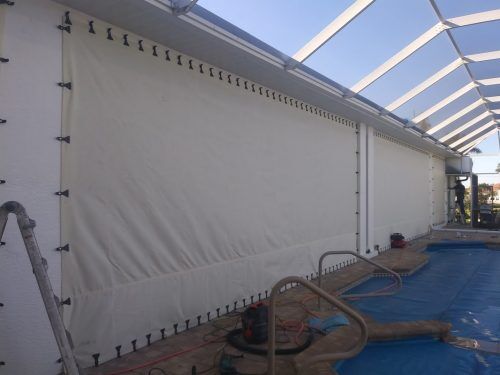 Hurricane fabric is a new, industry-leading technology that provides an alternative to more permanent hurricane protection systems for Mobile, AL homes, such as shutters and panels.
The hurricane fabric is a more mobile solution for homes in Gulf Shores, AL, offering high-strength technology without becoming a permanent fixture on the exterior walls of your home. The protective fabric is a hybrid construction, resin-coated for extra strength and durability against the elements. Hurricane fabric prevents rapid pressurization, thereby preventing roof lift-off and the severe, costly damage to your home's infrastructure.
Our leading hurricane fabric system, AstroGuard, combines safety and simplicity into an easy-to-deploy solution for your house in Mobile or Gulf Shores, AL. AstroGuard is upheld as the best hurricane fabric maker, allowing West Shore Hurricane Protection to confidently provide customers with a solution that will safely guard their homes against severe coastal storms.
What is AstroGuard Hurricane Protection?
AstroGuard offers Mobile residents hurricane fabric solutions for their Alabama homes. The fabric is often seen as a replacement of the traditional permanent storm shutters and panels installed onto homes and buildings in hurricane-prone regions. This system has proven to withstand the gale-force winds of over 75 mph, which other systems have struggled to measure up to.
The reputable system is also backed by a 10-year warranty, promising that your investment in your Mobile, AL home's protection will be long-lasting.
Benefits of AstroGuard
AstroGuard was built with the user in mind. Top benefits of the system include:
Flying debris protection. Most importantly, your hurricane fabric needs to protect your home or business. AstroGuard guards your home against projectiles and flying debris that can break the windows and entryways, causing severe damage and potential risks to you and your family.
High strength. AstroGuard boasts a burst strength of over 1,200 lbs., outranking metal panels, roll-downs, accordions, and other hurricane protection systems, according to AstroGuard.
Cost-effective. The system saves you from costly repairs as a result of storm damage. Also, AstroGuard is half the cost of typical fabrics and other more traditional products.
Insurance approved. AstroGuard is an approved method of hurricane protection by insurance providers. AstroGaurd directly impacts your homes insurance premiums in a positive way.
Easy to install. AstroGuard is designed with the homeowner in mind. The installation takes just a few hours and comes with plenty of resources and videos for straightforward instructions.
Lightweight and easy to store. AstroGuard fabric comes with storage bags and, because of the fabric's flexible nature, can be easily stored away when not in use.
Quick, easy deployment. AstroGuard is easy to store, but it is also just as easy to take out of storage and deploy quickly. Especially for those moments when protection is needed the most.
Hurricane fabric provides the added benefit of appearance. Allowing you to restore the original appearance of your Mobile, AL home after a storm. You don't sacrifice the look of your home year-round in order to be prepared for the worst.
Defend against the harsh weather conditions during hurricane season with hurricane fabric with mobile applications, available in Gulf Shores, AL.
Installation You Can Do Yourself
One of the leading benefits of AstroGuard technology is its ease of installation. This particular hurricane fabric is designed for straightforward installation and implementation on your Gulf Shores, AL home. So, you can deploy and take down the product whenever necessary. The ability for a homeowner to install hurricane fabric onto their own Gulf Shores, AL home means more cost-savings. For the reason, there is no need to hire a professional installer.
With a little bit of time, the correct tools, and handy instructions, you can protect your home with AstroGuard. Our own detailed guide outlines the five basic steps: measurement, cutting material, attaching clips, drilling and hanging the fabric, and how to remove the fabric after a storm.
Don't wait until hurricane season is at your doorstep. Protect your Gulf Shores, AL home with the leading hurricane fabric from West Shore Hurricane Protection. Contact our team to learn more at 727-488-8182 or online.